From OurGeneration horse to buckskin Lusitano
I got a horse a while ago. 
It's an OurGeneration horse (formerly known as Battat horse). Apparently they bought the company, the model is still the same as the old Battat horses.
I am pleasantly surprised that it has actually more sculpted details than I expected from the pictures.
I was already thinking of modding it, but maybe a repaint and a bit of sanding will do. Dapple gray would be nice, or maybe it'll stay brownish – but with a lot of lighter parts. 
To give you an idea of the size: Big new guy with a Breyer classic. It's ridiculous, really. And my cat, who wanted to say hello to the new guy. The horse is missing any gender specific parts, but the neck doesn't look like a mare's, so I'll make it a gelding.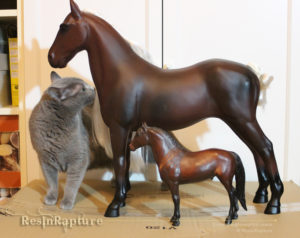 Part one: Removing the paint
Wrapping alcohol-drenched cotton wool around the body and covering it with plastic wrap to keep it from drying is quite a bit of work when the object is this large. But letting it sit like that for a couple of hours did the job, and most of the paint came off at the first scrub. As you can see, there's still a bit of scrubbing left. And apparently the plastic the body is made of was either brownish right from the start or it turned brown under the paint. Doesn't matter though, the horse is going to be a buckskin Lusitano and the colour scheme will stay in the brownish range.
Part two: Repainting the horse
Lusitanos are Portuguese horses, they usually stand around 15,2 hands high (155cm/62inches), so they are not really that big. And this horses head actually looks a bit like an Iberian horse with the eyes high up and to the front.
Part three: Adding mane and tail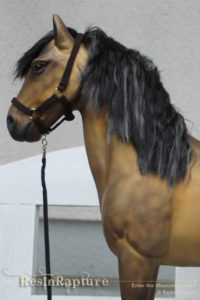 The mane and tail is made from black and silvergrey bjd hair wefts, which I tried to make a bit wavy with braiding and hot water.
I am quite happy with the way he turned out, even though I decided not to mod him and give the sculpt more detail. What was there is more visible now.
The tack is made from an old shoe lace and wire. I will have to drill holes to make his future bridle stay in place, I guess.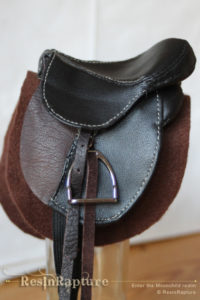 Meanwhile I've been sewing a saddle. Something I will not do again any time soon. Unfortunately the doll the horse was originally meant for has really long legs. The stirrups would have to come down to a level where it does not only look odd but any kind of aids given by leg pressure would not work. That's why I decided to change the plans and the designated horse owner.
Please ignore the quickly and unevenly cut saddle pad- it was just meant to protect both horse and saddle from direct contact.
I am not 100% satisfied with how it came out, but my fingers are so sore that I am not doing another one for a while.