Since I have been making eyes for all my new Blythe girls I thought I might as well make some eye sheets in Blythe size. The free eye templates have been on my blog for ages, but now they are nicely arranged, scaled to 14mm and ready to print. I just uploaded the familiar basic line of eye designs as PDFs. Lots of light colors with small pupils to chose from.
But wait, there's more… 🙂
As a special spring treat you'll get 65 new colors and designs in PDF format as well!
Have you made new spring outfits for your dolls and want to try some new eye colors? Maybe you find just the matching pair :).
Most of them are lush colors with large pupils, some of them are available with a smaller pupil as well. They will look best if you print them on glossy photo paper.
The most convenient chips to use are resin stickers. They are easy to change and you can make a new pair in a minute. You can purchase special Blythe resin chips here for example: BeBeBlytheCo on Etsy I have tried glass as well as resin, and I love the resin stickers. They are so easy to get in and out that I frequently change the eye colors to match outfits.
The PDF are protected, but the password is easy enough to remember, it's resinrapture.
Please subscribe to the blog if you want to use them. Thank you!
Just click on the image below to jump right to the ResinRapture eye templates. You'll find the PDFs at the bottom of the page.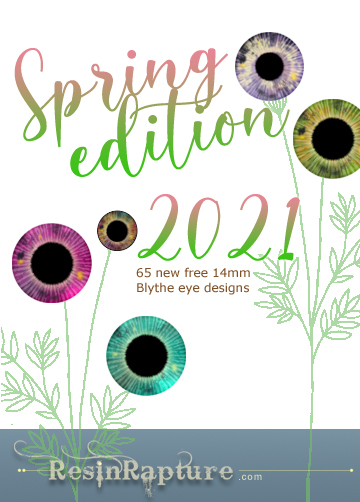 And of course I'd love to see how your doll looks with eyes you made using the templates. Join the facebook group OneSixbackstage and show your work!