This is not a post about dolls for a change, and it's going to be a rather long one.
As my fellow blogspot bloggers might have noticed, there appear to be some serious problems with the new blogger. I am using the old interface, or legacy blogger as google calls it now. And I hope it will continue to be an option.
Just to make sure there would be an alternative I tried to check out something else.
WordPress with my own domain
Like WordPress, for example. My bad that I made the mistake to start with a hosting plan to get my very own domain (I managed to cancel that just within the trial period). I set up an account with the recommended Blue Host, and even if it wasn't for me, the experience with the customer service was a pleasant one.
But I would have had to set up the 80% of the configuration I would never have used. And although importing blogger blog content like posts and pictures worked within seconds, all tags became categories. There's a tool for converting those as well as the permalinks, so it wasn't a problem after all.
But you have to customize your new blog design from scratch again. For me, that's the fun part, but I forgot that a lot of my pictures are all over the web and all of them have a link to this blog at the bottom. So I would have had a domain and loads of pictures with the wrong web address in them. If your images are just pictures it's not a problem of course. A bit more problematic was the choice of theme. A lot of them are free, but a lot of them come with costly pro versions, and you can't really figure out beforehand what's what.
And I would have needed to redirect all followers, or ask them to sign up again. Since I am not very social media active, I just wouldn't have wanted to deal with all the options to promote a blog move via twitter, instagram, facebook and whatnot. They are available, and there's a lot more you can do with a full payed for version of WordPress. But I came to realize that I would have had to pay for stuff I just wouldn't want to use. I don't want to monetize the blog, I don't want to post 'follow me here and there' on social media, I just want to talk about my dolls in an environment I am comfortable with. I don't want to pester anyone with unwanted invites to read my content.
I am quite happy with the little group of visitors and quite happy to visit their blogs – even if I do not always leave a comment. Moderating loads of spammer comments would be time consuming, even if there are more options to blacklist words or URLs in comments. Thankfully very few spammers take the trouble to leave spam comments on a blogger blog.
Second attempt – the free WordPress blog
WordPress free blog comes with quite a few more options than blogger – like importing blogger content, editing comments and categorizing. And importing blogger content works really well, comments, pages, tags, all there. It took a couple of hours, though. And you have to spent a couple of hours more to pick and customize a design again. If it wasn't for all the pictures and links, the followers and all the other stuff that would be a problem, moving a blog to a free wordpress blog is an option. Maybe I'll let one of my girls have their own blog just to make use of the account.
If you want to know how to go about it, here's a link to a tutorial how to move the blogger blog to wordpress. It also tells you how to redirect your followers to your new blog and how to change the feed. What you can do with a WordPress free blog also depends on the theme you pick. But that's what testing and playing around is for :).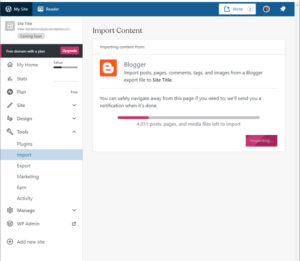 It was an interesting learning curve. Thank you for your patience :). The result of this experience is: I'll stick with blogger, see what happens, experiment a bit more with WordPress and if blogger changes in a way I don't want to bother with I might reconsider a move.