In answer to a question regarding eye sizes I did some quick comparison pictures. Most of my dolls wear Eyeco soft silicone eyes, which come in odd sizes. What normally would be 12 mm in standard glass eye size is 13 mm for Eyeco. Since they come with larger whites, it's possible to go one size down, sometimes even two. Most of my girls wear a smaller size, Eyeco 11 mm for a recommended size of 12 mm. Depending on the form of the eyes it's sometimes even possible to go down 2 sizes, as I did with my Myou twins.
Someone was asking for eyes for an IOS Hiro, a doll with a very long, almost slitted eye-shape. The closest to this eye shape I can offer is my Leaf, although she is maybe not the best example. Her eyes are a bit weird, the outer corners of her eyes go very far back to the sides of her temples, the sockets are uneven and irregular. The size recommendation for her was 14-16 mm, which is huge. For the picture I used 12 mm standard glass and Eyeco 13 mm soft silicone. The super small pupil is an exception, they're usually larger, but I wanted her to look wild. Larger pupils usually make eyes look more gentle. The picture with the eyes in a row show the normal pupil size for Eyeco eyes.
The glass eye doesn't fit perfectly, there's a gap, but the putty doesn't show. The 13 mm Eyeco fills the socket nicely without gaps due to the flexibility of the material.
In addition to these two I added a super small iris eye from Kokdollcollection. I ordered those for Enoch, whose eye openings are extremely small with normal sized sockets.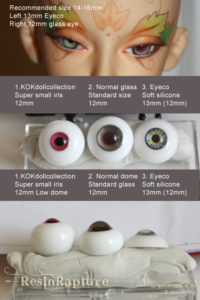 This one is a Luts Luwen (he doesn't belong to me, I just did his face), he comes with a recommended eye size of 18 mm. He's wearing 13 mm eyeco in the first picture, and they are a bit too small (the putty is showing at the corners). But 15 mm would have worked, I just don't have any.