This is probably one of the most frustrating sewing projects I finished this year. It all started with my attempt to make a cheongsam. I made a pattern test, it was fine. And then I chose the fabric from my stash that looked the most like a cheongsam fabric. Red cotton with golden ornaments.
I didn't want to make a fake closure like I did with the pattern test, but a slit at the shoulder with tiny beads as a closure. Very fiddly, and I spent hours on making that. I don't know why I didn't notice it before I did all the work on the shoulder, but I didn't: The fabric I picked was a Christmas themed fabric, and just above the waistline it read "Christmas".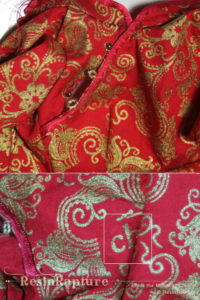 I decided to make the waist a bit higher and add the same satin I used to trim the shoulder parts to cover it. The dress has a zipper in the back, and I needed to test the position of the waist and satin ribbon with pins in the back, since I wanted to sew the ends down with the fold for the zipper.
Shouldn't have done that, because I made the waist just those annoying 4mm too high. The additional red and gold cord I used to make the waist look a bit lower doesn't really work. I guess I should have just left the "chri" where it was and nobody would have noticed. At least I know the pattern fits if I do it right.
Maybe I will make an attempt at it again some day (and draw the pieces on the right side of the fabric next time). The black wig I chose for Roux just for the pictures doesn't really work for her either.
This post is not exactly a happy post, and I will end it with a few words about something that has been worrying me for some time now. I wasn't sure if I should write anything about it at all. Everybody is entitled to taking a break. Dear Balljointedwoman, I very much hope that whatever keeps you from going online is temporary. I hope you will be well and back again some day. I miss you and I worry about you.