Some pictures I didn't want to mix with the upcoming easter post.
First Fiona, she was out in the garden today.
Not the best pictures, but I love her amidst the elephant's ears (those are the huge pink flowers in the second picture). They grow in a rather shadowy corner.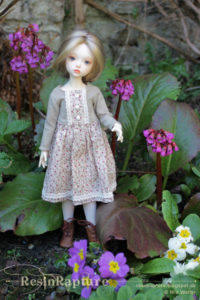 Dots wears stripes for a change and sports some new corduroy pants in brown. Apparently she wants to tell me something about yarn and future knitwear projects, but she's happy for now.
Sophia didn't get anything new for a long time, and that's why I made this sweater for her. It looks very mature. I don't know why Iplehouse decided to discontinue her, she has such a lovely smile. Stella wears her new skull shirt.
And last but not least Melisande and Queenie, they took a walk in the forest. Queenie has a new shirt.
Maybe I shouldn't have dressed her in that jacket, the shirt is almost hidden.