As you might remember, I started to work on a BJD horse customization a while ago.
This is how it all started- customizing an Our Generation Boho horse
In the meantime I received so many new dolls needing my attention that I postponed finishing the horse's bridle. It already had a saddle and a halter, but I couldn't find tiny buckles I needed for the tack. Raziel was standing in his box and waiting for his bridle, and I decided to make buckles eventually. They are soldered silver wire, and I burned my fingers badly before I started to use tongs to hold them during the process.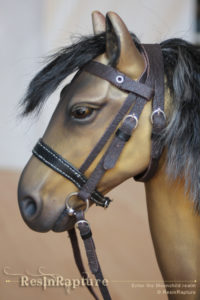 But now Raziel has all he need to go for a ride. The first couple of pictures are taken only with the halter on- I haden't finished the tack but had some time and light to use.
Meet Raziel, Queenie's buckskin Lusitano.
Raziel is a very obnoxious gelding. He was probably gelded too late, he still shows a lot of stallion manners. And he has his own opinions on what he should and shouldn't do. But he is eager to work, sure-footed and despite his cheeky character he can be trusted to behave when he's around kids.