I picked up Claude this morning :-). Which was doubly enjoyable this time, we had almost springlike weather, and I decided to walk half the way to the customs office. Just to hear the birds sing and enjoy the sudden warmth after the storms last week. It's still only 15°C, but for January that's almost hot. The only drawback is that sudden temperature changes make my finger joints ache, but it'll pass.
This is the first FID guy in the house, and he's even more detailed than my EID man. He will be Walden. I am not sure if I like all those tiny sculpted veins in such a small scale, but they sure are great sculpting work. A downscaled nYID body would have been enough for me in the muscle department, but when he's wigged and dressed it'll be ok. In combination with his head I'd prefer downscaled nYID or SID proportions, but I am ok with the body. And I am very pleased to find those little Iples to be very good posers. I guess I'll suede him anyway, but even without he is quite a bendy little guy.
These tiny hands are beautifully detailed.
Speaking of wigs and clothes… I am a wee bit disappointed this time. Not only are there tiny dusts in Claude's head (maybe they are tool marks from the eye socket grinding, I couldn't tell, I have to check him thoroughly tomorrow), the shoes I ordered for him don't fit. They are listed as FID size, but even warmed up I couldn't get them on. Maybe it works with very thin socks, which would prevent the shoes from adhering to the foot. I have some MSD boots I managed to put on his feet, they're tight, but it works. And I am still waiting for the Peter Pevensie shoes I ordered for him.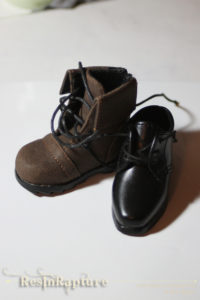 Brown MSD boots and the disappointing black Iple FID shoes
He doesn't really have clothes yet, he can wear a SID girl sweatshirt I received as a gift with my Zaoll head. I already made a set of patterns today, and one of the pants I made for Roux fit him. They just need to be a bit wider, otherwise they are pretty close in size. The wigs I bought for him fit, but I am not sure they'll work. I planned to go for the coloring of the Grantchester Series actor James Norton, but I am not sure I really like the reddish blonde. We'll see.
And the high heel feet for Roux came with Claude. They are actually quite a bit larger than her normal heel feet and fit much better into the AM shoes. I am glad they have a tiny H engraved in the sole, it would be hard to tell them apart otherwise despite the size difference. I will take another round of shoe pictures next weekend if the light is not too bad. And since this already is a very chatty post I'll close with one more picture and say good night for today.