Just playing…
Waiting for another wig for Dots (my new KID). I am not sure if it will suit her – if not, I'll let her keep another one and introduce her like that. And I am waiting for twins. Twins need twin dresses, and I've been busy sewing for them.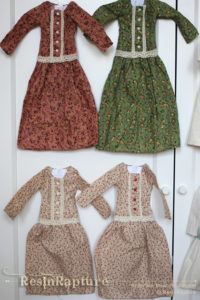 Sophia loved the green fabric, and she got a new dress too.
Since green seems to be the colour of the month, I made another one. Solovet was kind enough to change her appearance to model this one. I am not sure if I should add buttons or beads to the front panel. My sewing results tend to be rather plain and simple, and I like it like that, but looking at all the frilly stuff I sometimes wonder if they are too plain. There's a point where I feel like burying the character and I usually undo it until it feels "right" again. Small golden beads, maybe.
Last but not least, Nimue and Leaf.