The moonchild mansion
Thanks to a friendly shop owner I got my hands on some huge card boards to build my girl's home. I wanted the walls to be flexible to create different rooms with the same set of walls. Since moon children pass on their property to the following generations I thought it would look better if they were living in an old residential building. Something that is called Altbau in German, turn of the century buildings with high ceilings, huge windows, slanted walls…
I wanted a crown molding since I have no ceiling for stuff like stucco. I painted the walls light brownish in the end, I was going for something blue-grey first, but it looked too dark.
First day of my diorama project.
Basic set of walls, door and window and the skirting board.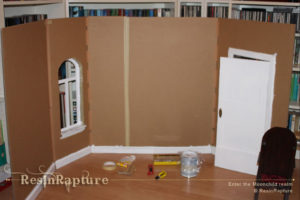 Wallpaper and paint. I probably should have put wall paper on both sides. The card board cambered slightly inwards from the one-sided paste treatment.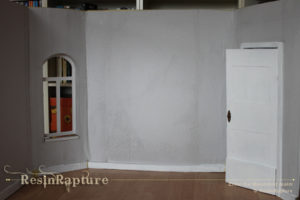 Last part: Painting the lower part in a nice peachy color.